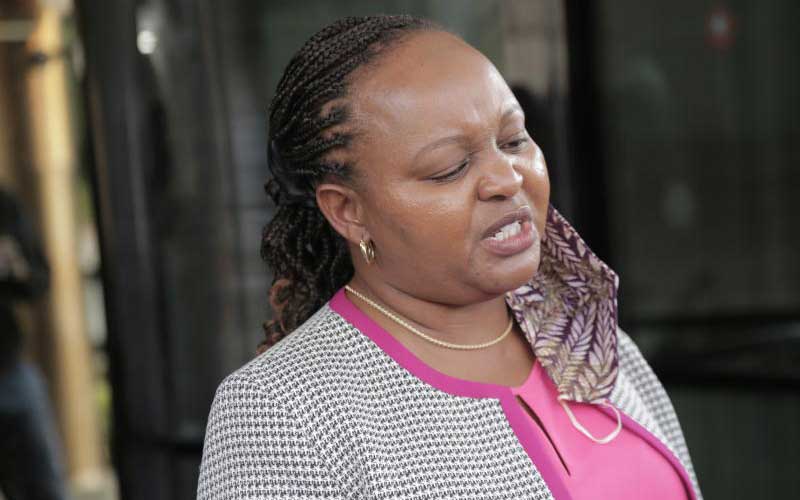 Kirinyaga governor Anne Waiguru (pictured) has termed raids at her homes and office a "charade" that is about 2022 politics. The Ethics and Anti-Corruption Commission (EACC) on Thursday descended on her homes in Kagio and Kitisuru, Nairobi in an ongoing probe into claims of corruption at Kirinyaga county. The raid extended to Waiguru's offices at the county headquarters in Kutus.
SEE ALSO: Health PS Susan Mochache now says corona aid not stolen
Waiguru and other county officials are accused of irregularly receiving travel allowances to the tune of approximately Sh23 million. "EACC is in the process of establishing whether the trips were actually undertaken and whether the documents supporting disbursements of Sh23 million to county officials were genuine," EACC boss Twalib Mbarak said in a statement shortly after the raids. The governor has, however, protested the amount saying that she was "surprised" by the claims and that "the inescapable conclusion is that this is not about investigating travel imprests but a wider scheme to shape the 2022 succession politics of Mt Kenya." "I wonder where they got this new figure from considering in the impeachment allegations and even their own interrogation of the same the amount was of Sh10m. Why do they see the need to shore up numbers? " she posed. She was making reference to the July impeachment motion that accused her of among other things, inflating travel imprests. The Senate cleared her of any wrongdoing.
READ MORE
Police: Why we arrested senators
How decision to move idols ended up splitting Oshwal community
ODM goes for Majiwa as Nairobi Deputy Speaker
Health PS Susan Mochache now says corona aid not stolen
SEE ALSO: EACC: Kemsa probe will be completed 'soonest'
Waiguru claimed the investigation was a decoy to detract from critical allegations against people on various multi-million corruption allegations. "It is intended to detract people who have recently been asking legitimate questions about how massive public monies have been spent," she said. "We hope that in the next few days we shall see EACC officers having the same energy to find out about the billions that are alleged to have been lost in various scandals as they have in the case of my travel imprests…" She added that the documents the anti-graft officers were looking for were basic and did not require raids at her homes. "The multi-person search, complete with police toting machine guns elicited only one document from my official residence and from my house in Nairobi - my cheque book," she said, adding that she would have availed it at EACC's request.
SEE ALSO: State to put up 10,000 houses on repossessed land
Waiguru added that she had given EACC all the documents to show her travel and refunds to the county for instances where she did not travel. "I have been here before. I have been used as a decoy before. The plot failed then and it will fail now. Wild allegations are thrown around only to come empty of even the basic proof," she said.
Waiguru blames graft probe raid on politics